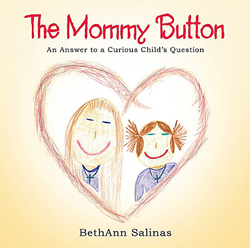 WAUSA, NE (PRWEB) October 16, 2014
CrossBooks is pleased to announce the nationwide release of author BethAnn Salinas' first title, The Mommy Button, a colorfully illustrated children's book about a five-year-old girl who wants to know why everybody has a belly button. Her curiosity sets the stage for discussing God's creativity and the special bond between mother and child.
As the girl wanders through the day and wonders about the strange dot on her stomach, she asks trusted adults—teacher, grandparent, dad—where it came from. Finally, her mom uses the question to spark a conversation about God and His wonderful ways of creation—how we're all made in His image, and how a mother and child also have a uniquely close connection at birth.
"This idea for The Mommy Button came to me when I was pregnant with my daughter," said Salinas, a LCMS pastor's wife and mother of two who has taught in Christian and public schools and holds a Master's degree from the University of Missouri-Kansas City. "I could not stop thinking about it until I put it into story form; I hope young readers will see the connections we all have with our Heavenly Father as well as our mother."
Paul Mikos, publisher at CrossBooks for LifeWay Christian Resources, adds, "BethAnn has written a really fun kids' book. Better yet, the four prayers included in The Mommy Button will help children understand in simple language the miracle of life and amazing creativity of God."
In addition to traditional book markets, Salinas hopes to share her first story with pregnancy care centers and adoption agencies where the topics of motherhood and the gift of life are always at the forefront.
The Mommy Button is available in softcover and eBook formats online via CrossBooks on LifeWay.com.
An imprint of B&H Publishing Group, CrossBooks offers a unique blend of traditional and self publishing. It serves a variety of Christian writers, from established authors to Christian leaders and first-time authors. As a ministry of LifeWay Christian Resources, CrossBooks is committed to unwavering principles of excellence and Christian faith. For additional information, please visit CrossBooks.com.
Related Motherhood Press Releases