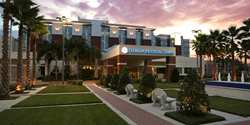 Tampa, Florida (PRWEB) May 07, 2015
Florida Hospital Tampa today announced the expansion of its Women's Health Pavilion service offerings to expectant mothers in the Tampa Bay Community. Through a collaboration with Women's Health Care, the Hospital is now offering comprehensive midwifery care through every stage of childbirth that include pre-pregnancy counseling, prenatal care, childbirth planning, labor support and delivery, postpartum care, breastfeeding support, and circumcisions.
"We're thrilled to be able to offer women and their families a full array of childbirth planning and delivery options," says Brian Adams, President and CEO, Florida Hospital Tampa. "The team of certified nurse midwives and nurse practitioners from Women's Health Care is a natural fit with our obstetrics program at Florida Hospital Tampa," Adams continued.
The addition of this new midwifery program aligns with Florida Hospital Tampa's strategic capital expansion of creating a comprehensive Women's and Children's Hospital over the next 12-18 months. Specific elements for the campus on Fletcher and Bruce B. Downs include a fully renovated mother/baby unit, labor and delivery unit, expanded level III NICU and well-baby nursery and birthing center.
"This partnership not only creates greater opportunity for birthing experiences that can be tailored to personal preferences and health care needs, but it creates a convenient option for expectant mothers who previously had to travel outside of our community to receive midwifery services," concluded Adams.
Women's Health Care has been providing midwifery care to the Tampa Bay area for more than 20 years with a team of healthcare providers that include certified nurse midwives and nurse practitioners. The practice, owned and led by Mary O'Meara, CNM, is the only midwifery owned private practice offering a full scope of obstetric and gynecologic services. Women's Health Care currently has offices in St. Petersburg and Tampa with plans to expand later this year.
"We are truly excited about this partnership and being able to provide birth centers as an option for mothers. They deserve these choices in their community," says O'Meara.
"It is always beneficial if we can keep expectant mothers closer to their homes, families, support systems and communities, and this collaboration with Florida Hospital Tampa is the perfect means to allow that to happen," O'Meara concluded. To schedule an appointment with a nurse midwife, please call 813-615-7300.
About Florida Hospital Tampa

Florida Hospital Tampa is a not-for-profit 475-bed tertiary hospital specializing in cardiovascular medicine, neuroscience, orthopaedics, women's services, pediatrics, oncology, endocrinology, bariatrics, wound healing, sleep medicine and general surgery including minimally invasive and robotic-assisted procedures. Also located at Florida Hospital Tampa is the renowned Florida Hospital Pepin Heart Institute, a recognized leader in cardiovascular disease prevention, diagnosis, treatment and leading-edge research. Part of the Adventist Health System, Florida Hospital is a leading health network comprised of 23 hospitals throughout the state. For more information, visit http://www.FHTampa.org.
About Women's Health Care

Women's Health Care is a team of Certified Nurse Midwives who specialize in providing high quality, cost effective care for women of all ages. Women's Health Care was established in 1992 and has been at the forefront of high quality, obstetrical care. Our current primary cesarean rate is 13%. Our vaginal birth after cesarean (VBAC) success rate is 85%.

For more information, visit http://www.tampabaymidwifery.com.